Supporting People, Organisations and Communities to improve their effectiveness over time.

Chris Bartlett
Chris is the Build Team Honcho at Optivly. Highly creative by nature, Chris is a singer & song writer, a qualified chef and a coffee aficionado. As if that wasn't enough, he's also the voice over guy for many of our videos.
Chris is very good at leveraging technology to assist the learning experience and manages the build process (a process which is akin to herding cats sometimes). He has a Degree in Creative Arts and combines business analysis, management, training & assessing,  audio & video production and IT support skills.
Chris also likes to flex his strength in managing our Platform as a Service and can set up your organisation quicker than you can say "what the heck is with that dinosaur thing?".
Ronzilla
Ron is our company mascot.  If we have the chance to work together, you can ask where the heck Ron came from.  Ron's name is a reference to Ron Burgundy from Anchorman and Godzilla from.... Tokyo in the 70's.
Ron doesn't know much about eLearning at all.  Ron thinks that eLearning is just a matter of taking a few student manuals and some PowerPoints and whacking them up online..... don't be like Ron.


Len Rivera
Builder Extraordinaire.  Len the builder, can she build it? Len the builder, yes she can!  Len has been working in eLearning design since 2007 which was the year that the iPhone was announced, so it has been a while. Len has a real passion for creating engaging learning experiences.  Len has a degree in multimedia arts and a black-belt in putting up with Paul (having worked with him at more than one company). Len brings strong design and development capability to the team, producing everything with an eye for detail and quality to ensure the learning journey is as awesome as it should be.
You name an eLearning authoring tool and Len has been there, done that and got the t-shirt.  Apart from being familiar with loads of learning tools, Len has used and administered quite a range of Learning Management Systems. Classically training in eLearning authoring and development, Len brings some much needed discipline to our somewhat eclectic team.
Belinda Singh
When Belle is not feeding or looking after her alpacas, goats, horses, dogs and other assorted animals, she provides Operations Management to the Response Group which includes our merry band of miscreants and ne'er-do-wells. We also promised we would include a reference to unicorns in this prose.  So here it is Belle.... unicorns.
Belle puts the word 'detail' to shame which is lucky really given her broad remit around trying to manage all of our systems whilst maintaining sanity. Belle has senior HR experience in the Australian meat industry and has a deep understanding of RTO operations, compliance and training. Belle excels at delivering projects on time, in scope and on budget.


Wayne Singh
Wayne is the Head Geek and manages all the technical stuff.  If you were to describe your typical IT type guy, Wayne would probably tick a lot of the boxes you are thinking about.  Loves computer games, tick. Experimenting with Virtual Reality, check. Nerdy T Shirts and an exceedingly large brain, also tick. Bad jokes, tick.
Luckily Wayne is so good at tech as he manages all the infrastructure, systems, integration and hardware for the group. Between Wayne and Chris, they can setup your Learning environment, connect Single Sign On, have your branding and theming done and loaded up your users before you've signed the project plan.
Wayne has over 20 years experience in Information Technology, including developing in-house HR and Training systems for a large Australian meat processing company and has worked across Australia and New Zealand but we don't hold that against him.
Paul Eldridge
Paul is the Head Honcho and has close to 15 years of online and blended learning experience.  With many battle scars and war wounds over the years, he likes to help other organisations navigate the sometimes complex landscape of learning platforms and content development. Wayne and Paul like to occasionally get together to nerd out over new technology.
Paul has co-founded a number of businesses all based around professional learning and training. As an example, he worked with CBA to build an online induction course for mortgage brokers joining CBA; flew to Illocos Norte in far northern Phillipines to work on an training platform; shared some Pho with MLA and DFAT in Hanoi & Saigon while working on a QA training project and had to act all professional and disciplined whilst working with some very distinguished gents at AMP in Sydney.
On the platform side of things, Paul cofounded a Software company  to design and build a PaaS LXP and CPD solution for professionals. The platform developed was partnered with Thomson Reuters a Fortune 500 company and domestically counted CBA, AMP and LJ Hooker amongst its customer base.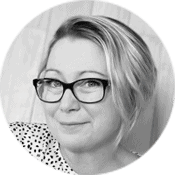 Jess Florent
Instructional Design Guru
Jess has a real passion for learning.  Learning languages was her first focus and after living in Spain for 6 years her Spanish ability made for some interesting experiences. Just ask the Madrid bus drivers.
Jess understands adult learners and their need to see the relevance of the learning – they want to be able to apply it directly to their work. She understands how easy it is to be distracted in today's world (probably because she has three kids) so capturing a learner's attention relies on highly engaging materials and active learning processes delivered in a time-efficient manner.  From teaching head honchos in top Spanish firms to industry leaders from South East Asia, Jess knows how to tailor learning to suit each individual or group.
Jess has a Master of Education, a Graduate Diploma of Applied Linguistics and a Bachelor of Arts (Spanish) as well as certifications in TESOL and train the trainer and a word of caution, if you're short on time DON'T ask her about 'The Barefoot Investor', Spanish food, camping at Cylinder or her favourite cheeses from Aldi.
Craig Leggo
Advisory Board Member
An unconventional and passionate learning evangelist with 24 years' experience, Craig has worked with 50+ large organisations on 130+ programs for clients in Europe, Asia, the US, UK and Australia. He has slept on more shades of corporate carpet tile than he cares to count. Looking very respectfully in your direction British Telecom, Barclay's and Nationwide...
Informed by the latest research in educational and cognitive neuroscience, Craig and his teams inject life into learning - delivering compelling, authentic and memorable experiences. Craig's notable projects include the launch of ApplePay UK, BT's first micro-learning, a gamified simulation for the mining industry (PROJECT CANARY), and the first Australian voice talent program in conjunction with Channel 9 and Southern Cross AUSTEREO. Craig is our "Ronzilla" whisperer, and finds himself variously cuddling, wrangling and/or darting him into submission in our server warehouse.
Craig also does a mean Arnold Schwarzenegger and Liam Neeson impression which he fine tuned on a 30+ whistlestop comedy tour of England finishing at the Edinborough Comedy Festival. Craig provides a fun, engaging and knowledgeable presence to our bunch of passionate creatives.