There are a variety of LMS technologies on the market, each with its own set of features and capabilities. Moodle remains one of the most popular and widely used corporate LMSs, while many North American universities have shifted towards Canvas. Both platforms provide unique tools that improve the learning/training experience.
A Learning Management System (LMS) is a software application or (more commonly now) a web-based technology used to plan, implement, and assess a specific learning process. Typically, an LMS provides an instructor with a way to create and deliver content, track student progress, and manage student records. Yet, every LMS offers different strengths for different purposes.
This guide will discuss how learning management systems have revolutionized corporate training and online education. We will also look at the two most popular LMS platforms and explore their range of educational tools. If you're looking to improve your organization's learning experience, we recommend checking out both platforms and deciding.
What is a Learning Management System?
A learning management system (LMS) is a type of software or web-based application used to create, present, and assess specific learning processes. LMSs have become increasingly popular in the last decade as educational institutions and businesses seek online learning benefits. More simply, an LMS is a platform for managing online courses and enhancing online education.
Embracing these technologies has helped corporate and educational institutions become more efficient, as well as:
Improve the delivery of online courses and training programs
Enhance the learning experience for trainees and students
Provide tools and resources that learners can use to improve their understanding of the material
Support the learning process by providing feedback and assessment tools
Automate the administration of courses and training programs
Benefits of an LMS
By digitalizing these processes, organizations have streamlined what was once a multi-faceted and complicated business process. Instructors can maintain entire classes and curriculums, grade assignments, provide feedback, and directly share video, photo, and text content through a single platform.
OPTIVLY Thoughts
If a client does not have an LMS already, we often recommend Canvas based on its simplicity to set up and the freedom it gives us to build interactive and engaging courses. We are really passionate about designing courses that really engage the learner, and with Canvas, we are virtually unlimited in what we can do. Very few LMS's allow the creative freedom that Canvas does.
Ron thinks that all LMS's are basically the same #Don'tBeLikeRon.
Ultimately, Optivly is 'agnostic' – we can develop and build in any LMS, and, depending on your circumstance, we have a range of options we would look at recommending. For example, if you own and operate a Vocational Educational College or Community College, we might recommend a different platform. If you need a system that addresses a range of HR functions, including online training, then we might recommend a broader HR platform that includes an LMS solution as part of a bundle.
Our view is that an LMS is a bit like a mortgage. No one actually wants a mortgage; they want a house. The mortgage is a means to an end, not the goal itself. Following that analogy, no one wants an LMS – they want something that can house the dynamic and engaging content that they want to provide to their employees, partners, or students.
If you have questions about which LMS is right for you, we are happy to share some of our knowledge with you as long as you buy us a coffee.
Who Might Use an LMS?
The NKI Distance Education Network originally developed the first LMS technologies to provide comprehensive online university courses. Within just a few years, the technology had spread and become widely embraced by universities and K-12 school boards worldwide. Today, most university systems still use an LMS, although the technologies have become far more advanced.
As learning management systems continued to evolve, they eventually broke free from the university system and found a new home in corporate America. Today, most major industries use LMS platforms to streamline their HR onboarding processes and employee training.
LMS technologies have streamlined corporate education by providing a uniform platform that enables all employees to receive the same training materials, no matter where they are. HR managers no longer have to prepare in-person courses and can gauge employee growth based on clear data analysis.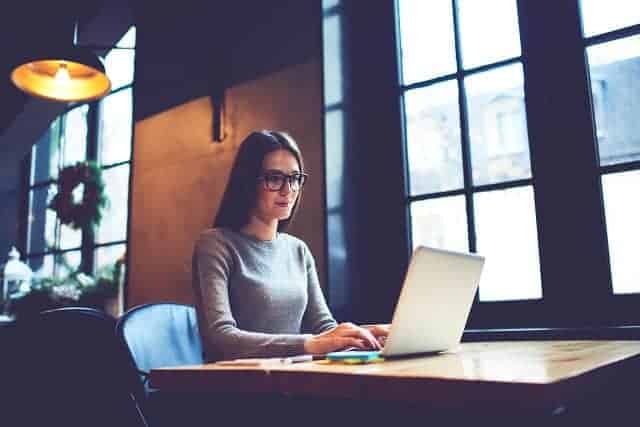 Are LMS Technologies Open or Closed Systems?
There are two types of LMS technologies—open- and closed systems. Originally, LMS platforms were pre-programmed and packaged onto downloadable software. HR managers, university IT specialists, and students had to physically download the programs onto their computers before they could use the systems. This took time and became expensive for larger corporations and universities.
As the digital age progressed through Internet 2.0, LMS technologies adapted and took on an open-source approach to online learning. Rather than relying on expensive pre-programmed, downloadable software, LMS companies created cloud-based learning platforms where students and instructors can interact together. This gave instructors the ability to create and customize their own courses and gave students more flexibility in their learning experience.
Today, a few closed-source learning management programs remain popular, but the overwhelming trend has shifted towards customizable and comprehensive open systems. This shift has allowed instructors from different institutions to share course materials, improve the platforms, and create an entire web of available content for all students to use.
What is the Most Commonly Used Learning Management System?
If we categorize learning management systems based on their two most common applications—educational and corporate—the two most commonly used systems are Canvas and Moodle. Moodle once reigned supreme across the board, but, in recent years, Canvas has overtaken it as the top LMS currently in use by North American universities and over 30 million users worldwide.
Canvas currently accounts for 32% of the North American educational LMS market. In just five years, it's quickly grown to become the most popular platform thanks to its massive library of instructor-created content, intuitive layout, and ease of integration with other software. As of 2022, more than 1,000 colleges and universities use Canvas, including Harvard, Berkeley, and Cornell.
Meanwhile, Moodle remains the top choice for many corporations, with an 11.2% share of the entire LMS market (educational and corporate). Moodle is the most popular system across the board, but it is rapidly losing market share. Its open-source platform is populated by some of the largest international organizations, including Microsoft, the British NHS, and the United States Armed Forces, making it home to some of the world's top content creators.
The current trend is seeing universities, schools, and corporates switching to Canvas. Like Canvas, Moodle has a massive open-source library of courses, training content, and high-quality educational materials.
What are Some Common Tools Within an LMS?
Taking a look at both Canvas and Moodle, you'll find similar tools, yet each platform succeeds in different ways. Here are a few of the most common tools within an LMS:
Course and Program Management Tools – Canvas and Moodle both feature tools that allow instructors to upload course syllabi, rubrics, calendars, and modules to manage and track curriculums across a semester or training course.
User Management Tools – User management tools, such as enrollment lists and transcripts, allow instructors to manage student records, track progress, as well as add or remove learners.
Content Management Tools – Canvas instructors can directly assign homework, quizzes, and tests through the platform or merge lesson content with other software, such as Google Classrooms and Microsoft Teams. Moodle features similar functions but, compared to canvas, is harder to figure out and less intuitive.
Assessment and Feedback tools – Canvas and Moodle both provide instructors with easy access to their students' work. Canvas features a SpeedGrader that allows instructors to collate assignments, assign scores, and record averages for the assignment. Moodle is less developed and relies on a forum system for one-way interactions.
Integration Tools – Moodle is set up to integrate with several other LMS platforms. In contrast, Canvas is designed to seamlessly merge with larger, more popular systems such as Microsoft Teams and Google Classrooms.
Combined, the range of different LMS tools helps course developers quickly add new content, present lessons, grade tasks, and leave feedback on a single platform. Learners no longer have to flip between platforms or submit hardcopy assignments. Instead, everyone can learn together in a single place.
What is the Most Popular LMS in the United States?
Currently, Canvas is set to become to most popular LMS in the United States. It already holds a 32% share of the educational LMS market and is used by some of the world's top universities. Although most corporations still adhere to Moodle, as Canvas continues to outshine Moodle's outdated tools and features, it will likely become the most popular LMS in the United States across the entire industry.
Final Thoughts
Learning management systems have quickly become a vital part of both corporate and university online courses. Today, Canvas and Moodle offer some of the most comprehensive tools and are supported by the world's largest universities and organizations. They provide a streamlined platform for course developers to share content, present lessons and provide feedback on assignments. The critical thing to think about is the content that will go on the platform. If you don't have interesting and engaging content, you will spend more effort to try and push employees through something that is actually disengaging them. Make sure you pick an LMS that allows you to build, select and provide interesting and engaging content. Oh… and make sure it works on a smartphone.