What are the steps of eLearning course development?
The eight steps needed to develop an eLearning course successfully are:
| | |
| --- | --- |
| Step 1: Objectives and constraints of the program | Step 2: Needs of the learner |
| Step 3: Content creation and strategy | Step 4: Conceptualising and design |
| Step 5: Development (Build) | Step 6: Review and testing |
| Step 7: Launch and Marketing | Stage 8: Review Cycle |
E-Learning projects are complicated because they involve so many moving parts. If there's a lack of clarity in the early stages, or if things go wrong along the way, a project could get derailed. A documented e-Learning development process lets everyone know where the project stands and when it will be done.
What makes Optivly experts in eLearning?
Optivly has a bunch of really experienced eLearning developers and Instructional Designers. Our lead ID (Jess) has over 20 years of experience at one of Australia's most prestigious Universities. Our Head Honcho (Paul) has led eLearning project development in four countries and has been working in and around eLearning and eLearning platforms since 2008. Check out more of our team here.
We have developed and follow a really robust eLearning project plan which incorporates the following key activities:
Planning
Analysis
Design
Development
Build
Test
Pilot
Execute & Close Out
This process has proven to be pretty successful for us and ensures that we follow a defined process that allows us to include our clients along with us on the journey. In terms of the methodology, we use the SAM Successive Approximation Model (developed by Dr. Michael Allen of Allen Interactions). This allows us to rapidly develop a prototype of the look and feel so that the client can get a sense of what the final product will look like.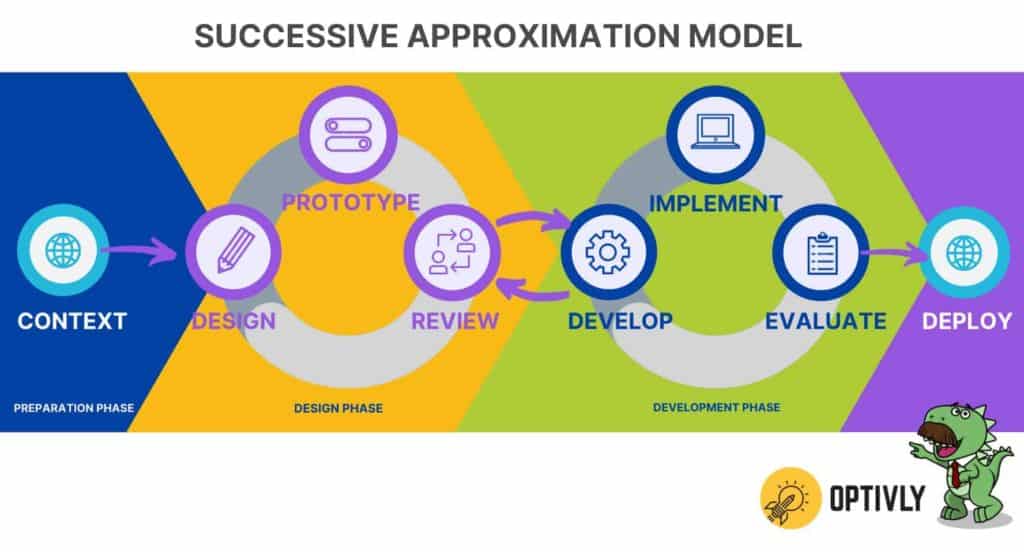 Step 1: Objectives and constraints of the program
eLearning development is no different from any other complex project: you must know where you're going before you start.
Look at the big picture: what are you hoping to accomplish?
Are there benefits to be gained?
What will you measure to assess the success of the project?
Defining program objectives ensures stakeholders can understand what is expected of them. You should take their feedback into account when determining what to do next. In addition, if you start with the right objectives, you won't have to make significant adjustments later on. We have developed a 'Reverse Brief' to help the client articulate everything that we need to know.
You should make a list of possible project constraints, such as budget, schedule, and timing, as you outline the program objectives. You will thoroughly understand your training requirements and which obstacles may hinder you if you compile these two lists simultaneously.
Spend time with stakeholders and subject matter experts before building your eLearning course to plan and scope the entire project. During the planning process for your eLearning course, you should conduct an initial meeting with your stakeholders to determine the learning objectives, develop a timeline, and establish a project plan. This leads neatly to step two.
Step 2: Needs of the learner
You should take ample time to analyse your learner's or clients' needs. 
Where do they have a knowledge gap or a key problem?
Can it be measured?
Are there obstacles to learning or applying their knowledge?
It is crucial to consider their demographics, technical abilities, content experience, and motivation of the learner or client. Is it more important for them to utilise just-in-time microlearning segments, or do they prefer an extended learning period?
Games that allow teams and departments to compete against each other or individually on a leaderboard have shown to be a great way to stimulate interest in learning and influence completion outcomes. Being thorough at these stages is vital to ensure alignment between the content and the organisational context. Defining your expectations and planning how the experience will be evaluated is essential.
Additionally, you need to research your client's or learners' market or industry to find out what technologies or skills are popular or in demand. It is also important to know where and when your audience will learn so you can plan your future course accordingly. All of this information will assist you in developing relevant, useful, and engaging educational content.
Step 3: Content creation and strategy
You've taken into account both the entire organisation and the learners. Now, you need to develop the content or review the content provided to you by your client. Are there any topics or subtopics that must be taught to overcome a learning deficit? Your Subject Matter Experts are the best people to ask these questions. Have them brainstorm a list of topics and then sort and consolidate them into meaningful subjects.
No matter how good your eLearning development skills are, you cannot overcome poorly written content, missing content or content overload.

Team Optivly 2022
Ensure that you write a specific learning objective for each of the key topics and use an action verb. You can include actions like recall, apply, and achieve. The use of action verbs is an effective way to measure results later in the process. The assessment directly relates to the learning objective: was the information recallable, or was a specific skill demonstrated?
In order to bring your SMEs and Project team with you, share the storyboard area using Teams or Dropbox, or some other file-sharing system. At Optivly, we use Teams and create a Team site for each new Client Project.
Step 4: Conceptualising and design
The analysis, planning, and organisation you have done up to this point will influence the Instructional Design of the storyboard. Depending on the learner's previous experience with the content, they will need different entry points. We have written in a previous post about the importance of Instructional Designers and the ID process. This skill set is critical to the success or otherwise of your project.
Consider these key elements when storyboarding a module:
| | |
| --- | --- |
| Graphics, animations, video, and photos | An audio script to accompany a video or animation |
| The amount of text and the style in which it is written. | Informal Quizzes to check understanding |
| Learner interactions | Assessments, feedback, and remediation |
| Learner Guides | Polls and other similar interactions |
Some Instructional Design Considerations
Step 5: Development (Build)
Think about how the learner will view the module before the storyboard comes to life at the development stage: laptop, mobile device, or both. Input the on-screen elements, and create interactions and assessments using your preferred course-authoring software. Hopefully, your learning management system specialist has already been in touch with the developer about publishing preferences and setting up your learning management system course.
Are there plans to publish it in Common Cartridge, Tin Can (Experience API), SCORM, or some other format? The LMS should include a description of the module and instructions on how to follow it.
Make sure you are building in an iterative fashion. We find it just as quick to build a rapid prototype as it is to produce a rough approximation in PowerPoint. So when our client wants to see something 'before we build it, we always refer them to this point. Most clients won't want to see a finished product straight up; they will want input and their chance to make changes and steer it in the direction that they want it to go in. Using an iterative approach with rapid prototyping means your clients get to come along for the ride and see their input in the final product.
Step 6: Review and testing
Depending on your organisation's needs or your client's needs, you may be able to test the course with a focus test group before rolling out the finished product to the organisation as a whole. It's a good idea to develop a review/feedback sheet that is easy for participants to complete and make sure that you provide specific instructions on the kind of feedback you're looking for. It can add weeks, if not months, to your project if you get conflicting responses around the overall design. The project team should appoint one person to review all feedback and determine final revision decisions to keep the project from stalling.
Step 7: Launch and Communications / Marketing
Getting ready for your launch is a crucial stage that is often overlooked. Your hard work is finally paying off, and it's time to show off your success! Taking the time to understand the course in its entirety is important.
Make sure that internal comms needs have received sufficient walk-throughs and understand the key drivers for the course being developed in the first place. Setting false expectations is just as bad as not providing any information.
Depending on the size of the course and its importance to the organisation it may be a good idea to do a soft launch – where you roll out to a small selection of employees. Have them write testimonials of the course to share with their colleagues. You can even consider doing a screen capture of the course and producing a small video that can be shared.
Stage 8: Review Cycle
A revision cycle should be established even before the launch. What will be the lead time before some content becomes obsolete? Will the content be rolled out in cycles to future learners? To improve your eLearning, you should provide learners with the opportunity to give feedback. You'll decide how to proceed based on the results of the assessment checks you determined in your storyboard.
It is important to evaluate your return on investment in addition to a revision cycle.
Don't ignore how the revision will affect your organisation's culture. In fact, it should include both quantitative and qualitative measures. Analyse your eLearning program based on both ROI and qualitative factors.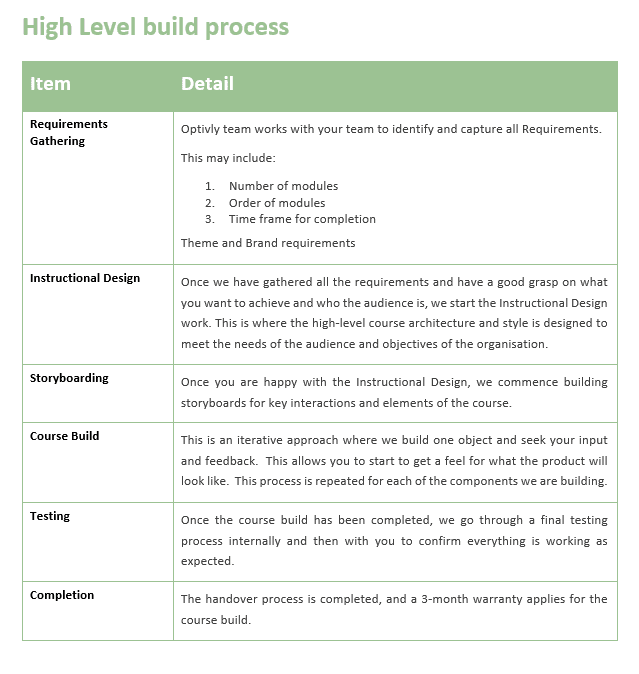 Here are some free examples… because that's the nice guys that we are!!
Kick Off template.  Ensures both parties have the detail they need going into a Project.
Typical eLearning Project Plan. This lists all the key activities, and major stages in an eLearning Build for Optivly.
Conclusion
Hope you found the above information helpful. You can use many of the concepts here with both the ADDIE and the SAM (Successive Approximation Model). The ADDIE model is probably the most well-known. However, SAM is also a popular alternative as its much more akin to the AGILE methodology employed successfully in software development. Our Optivly eLearning experts use and are big supporters of the SAM approach. We also believe you shouldn't slavishly follow any one process. It's always best to adapt processes to meet the needs of your team and your clients.